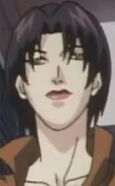 Nancy Wilson is a member of the A.D. Police and appears in A.D. Police: To Protect and Serve. She serves as section manager and direct superior of the A.D. team that appears in this continuity. Like Mary Malon she is a New York native, and has been descried as both beautiful and assertive.
She used to date Kurata, but the couple broke up and Nancy married someone else. She recently divorced her husband. It appears that her responsibilities as the Section Manager often supersede those of a mother, so she often leaves her four-year old daughter in the care of her sister.
Ad blocker interference detected!
Wikia is a free-to-use site that makes money from advertising. We have a modified experience for viewers using ad blockers

Wikia is not accessible if you've made further modifications. Remove the custom ad blocker rule(s) and the page will load as expected.